Hays County Crime Stoppers Headquarters
ENGAGE * EDUCATE * EMPOWER
*Statistics 1981 to present (updated 10/01/2023)
Property / Cash Recovered
$13,505,349.00
Total Recovered Stolen Property
and Seized Narcotics
Do you have information on a Crime?
Send us a Tip, and if it is eligible, you could receive a CASH reward.

1(800)324-TIPS               P3Tips Mobile App
MURDER MYSTERY DINNER
FUNDRAISER AND SILENT AUCTION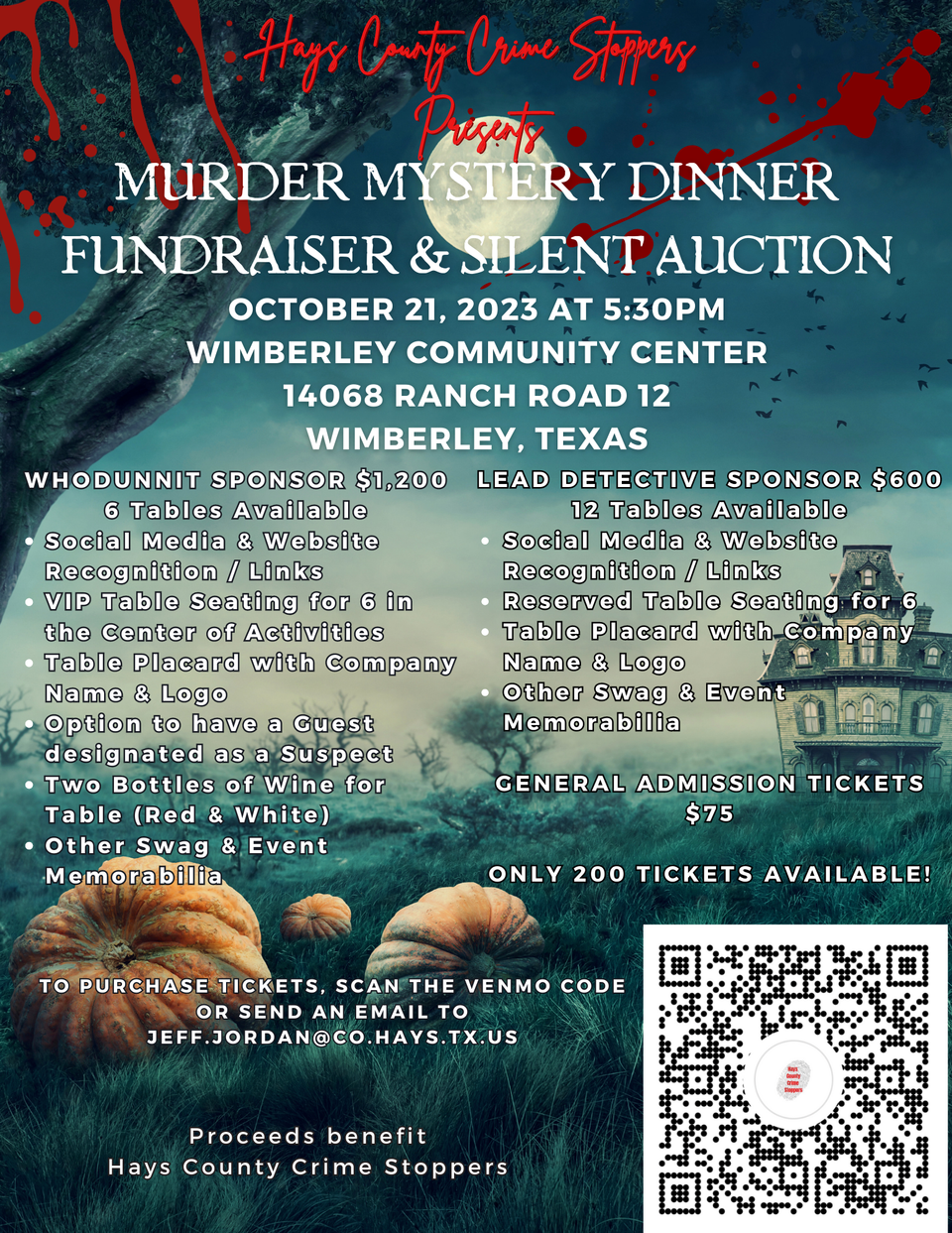 Hays County Crime Stoppers will be hosting a Murder Mystery Dinner Fundraiser and Silent Auction on Saturday, October 21, 2023, at the Wimberley Community Center located at 14068 Ranch Road 12 Wimberley, Texas.  Doors open at 5:30pm, with dinner served at 6:00pm.  Table sponsorships are available.
WHODUNNIT SPONSOR $1,200
1 Table Remaining

Social Media & Website Recognition / Links

VIP Table Seating for 6 in the Center of Activities

Table Placard with Company Name & Logo

Option to have a Guest designated as a Suspect

Two Bottles of Wine for Table (Red & White)

Other Swag & Event Memorabilia
LEAD DETECTIVE SPONSOR $600 
SOLD OUT!
GENERAL ADMISSION TICKETS $75 EACH
 
For additional information, contact Jeff Jordan at jeff.jordan@co.hays.tx.us call 512-210-4425.  You can purchase tickets via at the Venmo QR Code.
Murder Mystery Dinner and Silent Auction Coming Soon!
Start planning now.  Hays County Crime Stoppers Murder Mystery Dinner Fundraiser and Silent Auction. Be a Crime Stopper, solve a mystery, have some fun. Come enjoy dinner, drinks, and a night of mystery and laughs with us on October 21, 2023!!

More details coming soon!
The Lucky Heifer to Host Benefit for
Hays County Crime Stoppers
The Lucky Heifer is hosting a benefit sweepstakes game night for Hays County Crime Stoppers. Proceeds will be donated to help Hays County Crime Stoppers with general operations and reward funds! Come out and enjoy some fun and electronic gaming at The Lucky Heifer!
Join us on Monday, July 17, 2023
102 Rebel Drive
Buda, Texas
6:00PM to Midnight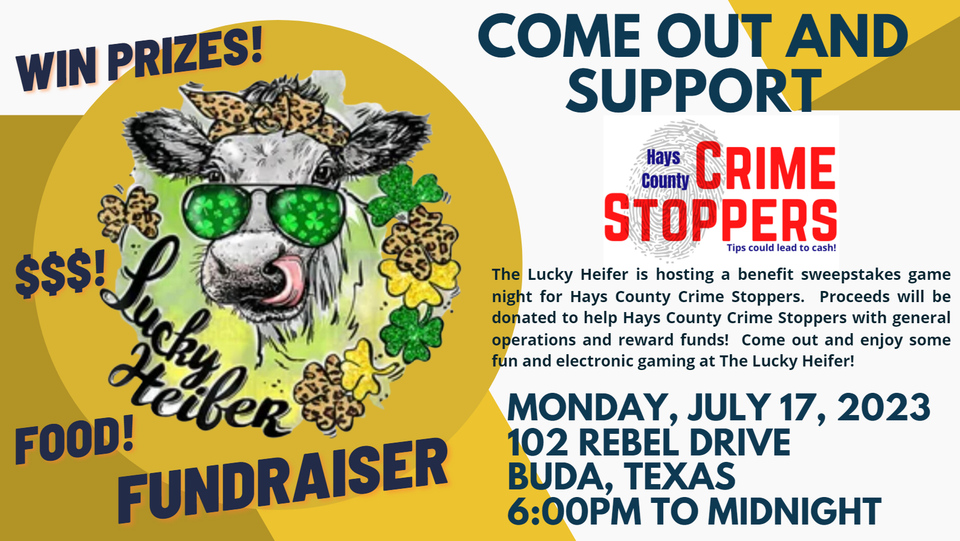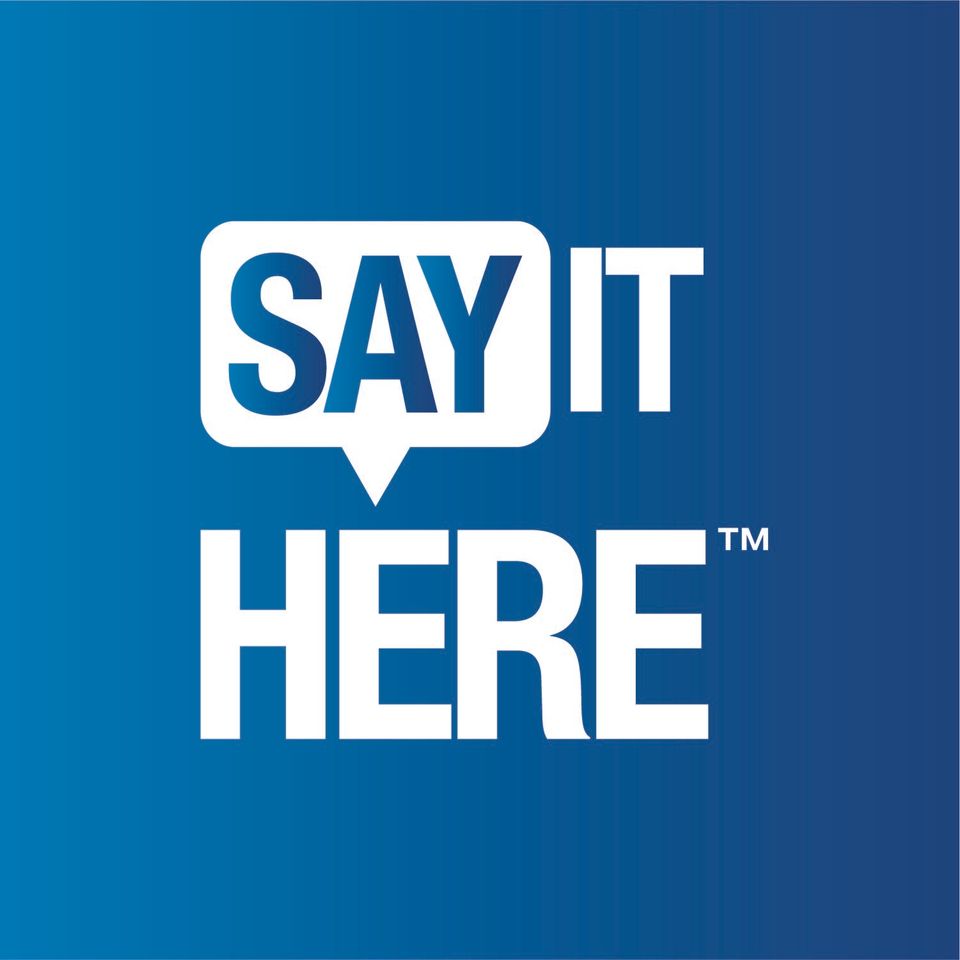 SAY IT HERE™
Say It Here® is the trademarked slogan of Crime Stoppers USA (CSUSA) and its members. The Crime Stoppers network remains one of the safest and secure ways to report crime anonymously. There has been a steep increase in the number of hotlines—many of which don't provide the same anonymity.

As the largest and most-used tips organization in the United States, Crime Stoppers recognized the need to develop a unique slogan that citizens can confidently recall when ready to report. The Say It Here® slogan represents the confidence Crime Stoppers has established between the public, the media and law enforcement in an easy-to-remember way.

Hays County Crime Stoppers, Inc. is proud to display the Say It Here® slogan.  We commit our organization to keeping the promise of keeping the anonymity of our tipsters, engaging with our communities and partners, providing education on crime prevention and crime solving, and empowering our communities to stand up and fight back against crime!
Follow Up on a Crime Stoppers Tip
Have you already sent us a Tip? Did you see the subject of your Tip was arrested?

You kept up your part of the deal, now or us to keep our end. If you have already submitted a tip click the button below. It will take you to a log in screen where you can use your Tip ID and Password to check the status of your tip and if you earned a reward you will find out how to collect.